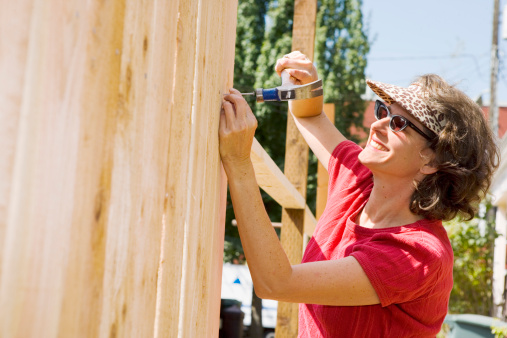 When it comes to fence installation in Toronto, unless you have previous experience, you should leave it up to the
fencing professionals
at Total Fence Inc. Whether you're looking for residential or commercial fencing installation, our team of fence and deck building experts will install a fence of your choosing on your property with minimal disruption to your life or business operations.
Wood Fence Installers Near Me?
If you're looking into wood fence installation, the job typically involves measuring the yard first, then placing stakes with a taut string between them. From there, we will stake out where the line will be located, making sure that the fence is touching the string so we can be sure that it is within the measured lines. This goes for both wood fence installation and other materials, such as vinyl and iron. Of course, we'll also take into account where any gates and entrances are going to be located.
If you want your fence to be a little sturdier, you may need to dig postholes. We realize that this means digging up part of your yard, so as part of our residential fencing installation service, we will fill in any remaining holes so your yard looks as good as new when we finish.
What Fence Should I Get?
When you're looking into fence installation in Toronto, you should take the purpose of the fence into consideration. If you're thinking about commercial fencing installation, will you use it to block out noise? And if you're considering residential fencing installation, in addition to the purpose of the fence, you'll also have to account for the cost and fencing material you plan to use.
Wood fencing is a popular choice. We offer wood fence installation using the finest-quality wood at an affordable rate. And best of all, we offer a free initial quote on the cost of your wood fence installation.
Things to Consider When Installing a Fence
1. Good Fences Make Good Neighbours
Regardless of whether you're looking into residential fencing installation or commercial fencing installation, you will have to let your neighbours know that you are having a new fence installed. You'll have to determine where your property lines are, though-you don't want to build your fence on your neighbours' property!
2. Digging Into Underground Utilities
Another important consideration to take into account when it comes to fence installation in Toronto is the location of any underground cables or pipes. While a posthole typically won't go deep enough to reach any buried pipes or cables, you should still make sure you know where everything is first; you don't want to rupture a pipe and have to deal with the time and cost of the repair before having your fence installed.
If all of this seems daunting, call on us for fence installation in Toronto. We will do all the measurements, determine where everything is located, and install your fence in an efficient and professional manner. And most importantly, we will work closely with you to ensure that the fence is exactly what you are looking for.
Whether you're looking for commercial fence installation or residential fence installation, Total Fence Inc. provides professional fence installation in Toronto and the surrounding area.