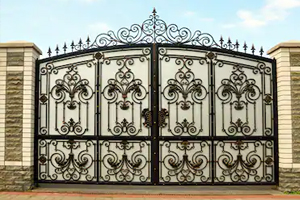 As the saying goes "Face is the index of mind", a gate will give an idea to the passerby as to what your house must be from the inside. While speaking volumes about the residents of the house, a gate or a fence must be beautiful, elegant and a means to safeguard the house. The beauty of the gate adds to the value of the property to which it is attached. Much of the time they are made of wrought iron, but there are a number of materials available to make such gates or fences, such as ornamental, picket, or shadow box. Each one of them might serve a different purpose but Ornamental Iron Fences and Gates will always stand out among the rest. Some of the reasons for this include:
Resistance to Rust:

Iron and Rust go hand-in-hand but when we talk of Ornamental Iron we can rely on its resistance to rust as Ornamental Iron is not pure Iron but it is an alloy of Iron and slag (a fibrous material) which helps in increasing this resistance. Such fences and gates can last for longer periods of time.

Durability:

Iron is more durable than other materials. Even if something crashes into it, it can stand the damage that may have happened. This is not the case with shadow boxes. Their durability is far less than Iron gates. Iron gates can also stand the daily wear and tear that may occur.

Restoration:

Restoring an Iron gate is not a great task. If it appears that the gate or the fence is losing its touch, ensure to give it a makeover just by painting it properly on a not so busy Sunday. And lo, the fence or gate is there till the next Presidential elections. You spend a few more bucks on it and it may even be there for the next decade or so.

Enhances the Property's Value:

In today's world a look is what counts. Anybody will be interested in the interiors only if the exterior attracts the onlooker. Fences and Gates must be beautiful and long lasting. Once this happens you can see the value of your property climbing the charts. In case a property needs to be sold off, the resale value of that property is bound to go up due to the presence of the ornamental fences and gates.

Reflects your personality:

A gate is just not a gate. Being ornamental, it can be decorated in a number of ways by providing twists, curves, and having scrolls on it. Some people even feel like having their initials on the gates in a decorative style. Using your style and design you can showcase your personality through a gate.

Artistic Styles:

The process of iron forging and the manual working with special tools produces an end product which looks beautiful and spell-binding. Nothing less than an artist is the individual who designs ornamental iron gates, and the way the gates are built and made is nothing short of art. The superior craftsmanship that goes into making these gates clearly demonstrates there is a fair bit of art involved.

Environmentally Friendly:

An ornamental iron gate is a perfect option if you're concerned about the environment. Not only can you save natural resources, since wrought iron gates scarcely need to be replaced; you can even recycle the iron cast. The gate can be sold to a dealer in scrap metal at a good price. These fences or gates can also be sold to antique shops and architectural haulers because there seems to be a strong demand among these professionals for ornamental iron fences and gates.
Summarizing It
We just went through the reasons why to choose ornamental iron fences or gates. However, there are two factors to consider while going in for the kill i.e. Cost and Privacy. As a lot of work goes into creating the gates and then customizing them as per the needs, the cost is bound to increase. On the other hand, these gates and fences can be customized but customization is so far limited to curves and twists. A passerby may easily peek into your property