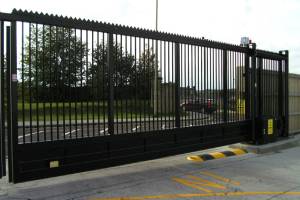 Commercial property owners are always looking for better ways to protect their property. Perhaps one of the best ways is by installing a durable commercial fence around the perimeter. It is quite important to choose the right type of fencing so that with safety, the beauty of your commercial premises is maintained. And, the commercial fence gate should be strong enough to provide a safe haven.
Here are some tips to choose the right commercial fencing
Research
Before making any choice its important to know the different types of commercial fence gates. To make a well-informed decision, one should know the pros and cons of each type of commercial fence gate.
And if you're looking for an option that is easily customized then make the choice accordingly. The gate you choose should be able to withstand the elements for a lifetime. It's up to you whether you want one made from hardwoods, such as cedar and redwood, or something of metal. Every material has its own advantages and disadvantages, so assess your requirements to choose a wonderful commercial fence gate. Comparing it would help in making the right choice.
Security Needs
The other parameter that should be considered is the security needs of the commercial property. If your needs are temporary, then rent a commercial fence gate.
In case your commercial property demands high levels of security, choose a fence made from solid materials. Chain link and ornamental fences are the most popular choices of business owners. If you're looking for something solid, durable, and low-maintenance, vinyl fences would be perfect.
It keeps the inside of your commercial property hidden from passersby. They protect your privacy to carry out different activities in the property without prying eyes.
Takeaway
We have many options for commercial fence gates. And our experts will help you to assess your needs and find the fence gate that fits seamlessly into your needs and budget.
Check with Total Fence Inc., if you're looking for additional security options or a commercial fence gate with thicker materials. We'll be happy to guide you in making the right choice for the protection of your commercial and residential properties.