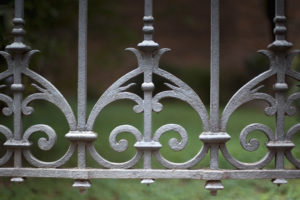 Ornamental iron fences are beautiful ways to distinguish your property lines in your neighbourhood and add an extra layer of security to keep wanderers out. The simple black colour looks stunning against almost every home and they fit nicely alongside your garden. Here are some tips to help maintain your ornamental iron fence and keep it looking its best throughout the year.
Inspect Carefully at Least Once a Year
Annually inspecting your fence is one of the best ways to identify potential problems and resolve them before they get worse. Walk around your fence and check for any defects such as missing caps, broken or bent hardware, rust, peeling paint, chips, and scratches.
Wash and Wax
Did you know you can use car wash soap to clean your iron fence? Make it a habit to wash off dust, dirt, bugs, and debris from your fence once a year. Then, apply a gel-type car wash wax all over it to provide an extra layer of protection from the elements. The best time of year to do this is in early spring before the weather gets too hot.
Cut Back Grass around Your Fence
Another way to maintain your iron fence throughout the year is to cut back any grass, vegetation, or bushes around your fence after summer. If there are vines and plants climbing your fence—as pretty as they look during the summer—they can begin to erode the protective coat on the fence and cause the metal to rust and peel.
Keep It Dry
It's obvious your fence will get wet when it rains and snows, but if you can prevent any additional water from sitting around your fence, it will last a lot longer. You may need to wet your grass weekly to keep it lush, but try to avoid soaking your fence every time you do this. The added water that remains on your fence can lead to corrosion and rust.
Check the Gate
Last, but not least, don't forget to check the gate. Grease the hinges when they begin to squeak to keep them lubricated and working their best. If you catch dry hinges before they begin to cause issues, you're being proactive, and your fence will last a lot longer.
Get Your Ornamental Fence at Total Fence Inc. in Toronto
If you've decided to buy an ornamental iron fence for your home, look no further than Total Fence Inc. for customized designs and professional installation. Our team has the skills and experience to know which fence options work best for your budget and purpose, and we can answer all your questions about maintenance and year-round care. We are fully licensed, and we provide a variety of fence options including iron, chain link, and wooden fences and gates. Best of all, we do all the work from start to finish. Want to know more about our ornamental iron fence company in Toronto? Feel free to contact us with any questions.