When choosing the right fence for your home, you have a few options to consider. However, lattice fences are a popular option for several reasons. They offer privacy, security, and add beauty to your backyard. If standard wooden fences, or chain link fences are too plain for your desired esthetic, lattice fences may be the right style for you. Here's what you need to know about lattice fences and their benefits for your garden and backyard.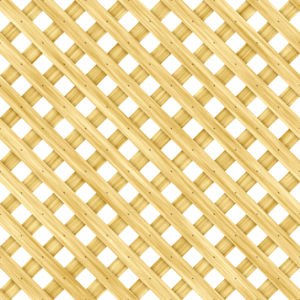 Cost-Effective
If you're looking for a budget-friendly fence option, lattice fences are the perfect choice. They typically cost $8 to $60 per linear foot, compared to $100 for solid board fences and other options. You can get a look you love at a fraction of the price when you choose lattice fencing.
Easy Installation
With professional assistance, getting your lattice fence installed is a breeze. They will measure your backyard and garden to ensure it is the right width and height at each area and will handle the building and installation for you. With their professional installation, you won't have to worry about sinking posts, uneven pieces, or poor-quality materials.
Useful in Various Attractive Designs
Lattice fences can be built with various materials that have additional benefits in terms of appearance, maintenance, durability, and cost. A customized design allows you to create a look that is uniquely yours, and that fits your backyard and garden space in a beautiful and fitting way.
Plant-Friendly
Another benefit of lattice fences is that they are the perfect choice if you have vines and other climbing plants. They can beautifully grow onto the fence over the seasons and you an enjoy the natural appeal of your garden as it extends. Lattice fences look amazing surrounding backyard gardens, making it the perfect option for homeowners who love to garden.
Add Aesthetic Appeal
The decorative aesthetics of lattice fences are one of the primary reasons why homeowners love them. This ornamental alternative to other types of fences still provides great functions in security and privacy. Compared to other types of fences, they add strong curb appeal and visual interest to visitors and neighbours. They also work as great dividers to hide unsightly items like your air conditioning system or garbage disposal units.
Choose Total Fence Inc. to Build the Perfect Lattice Fence for Your Backyard Garden
The unique design of lattice fences and the way they perfectly suit garden spaces are some of the reasons that make it such a popular option for homeowners. So, if you're located in Ontario and looking for reliable fence contractors in Toronto to help build a lattice or trellis that suits your outdoor décor and purpose, Total Fence Inc. is the team you need. We are a fully licensed company located in Toronto, and we provide a myriad of beautiful fence options. Best of all, we do all the work from start to finish. Want to know more about our residential fencing contractors in Toronto? Feel free to contact us with any questions.