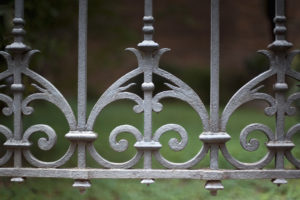 Ornamental iron fences can be a beautiful way to enhance the curb appeal of your home, protect your property, and add style to your yard. However, changing seasons can take their toll on your fence. Without regular care for your fence, its elegance and beauty may decline due to rain, hail, snow, and ice. To keep your iron fence in tip-top shape during the winter, here are some helpful tips.
Remove Rust and Existing Damage
Since winter can be brutal on your fence, preparing it before the cold arrives is the best way to prevent rust. If you see any rust spots, deal with them right away. You will most likely notice them in the joints between the slats and bottom run, around ornamental features, and on thinner pieces of iron around latches or closures. You can eliminate and protect against rust by using steel wool or a bristled brush to rub away the powdery rust and flaking metal to create a smooth surface. You can also spray down these areas with an anti-rust acid. A professional fence installation company will be able to take care of your fence for you.
Protect, Prime, and Paint before Winter
To stop weathering, rust, and grime from accumulating on your beautiful iron fence, these three simple steps can keep your investment looking in prime condition.
Protect and Clean

: Give your iron fence space by keeping vines and thorny plants away from it. Weeds, shrubs, and other harsh outdoor plants can scratch or peel away the paint, and their moist leaves after rain and snow can cause the fence to rust. Be sure to trim any shrubbery near your fence to protect it from damage. Regularly clean the fence by rinsing off dirt and grime, and annually cleaning it with mild soap and water. Choose a sunny day to clean your fence so the water will evaporate.

Prime

: Priming the iron before painting it the best way to protect the metal from rusting and deteriorating from the elements. Iron and steel won't simply corrode when exposed to excess moisture and air; they will rust. A simple base coat of oil-based primer will do wonders to protecting your fence.

Paint: Once you have primed the iron, paint it. Primer may appear to do the job on its own, but it is not designed to function as a surface layer. Once it's fully dried, paint with an oil-based metal paint that suits the colour of your exterior décor. It may be challenging to carefully and evenly paint around the intricate twists and turns of the ornamental fence, which is why it is best to hire a professional.
Pay Attention to Shifting Soil
A deeply rooted and sturdy fence will stay upright throughout the years, but rain and snow can soften the soil around the posts and make it unstable. Be sure to check that your fence posts are standing straight and secure in the soil. If you notice your fence is shifting, contact a professional fence installer and have it repaired before winter.
Let Total Fence Inc. Install and Maintain Your Ornamental Fence
If your ornamental fence requires some maintenance, Total Fence Inc. is ready to serve you. Not only do we create and install customized fences, we also have years of experience to help you choose the best options for your budget and can answer all your questions about maintenance. We are fully licensed, and we provide a variety of fence options including iron, chain link and wooden fences and gates. Best of all, we do all the work from start to finish. Want to know more about our ornamental iron fence company Toronto? Feel free to contact us with any questions.